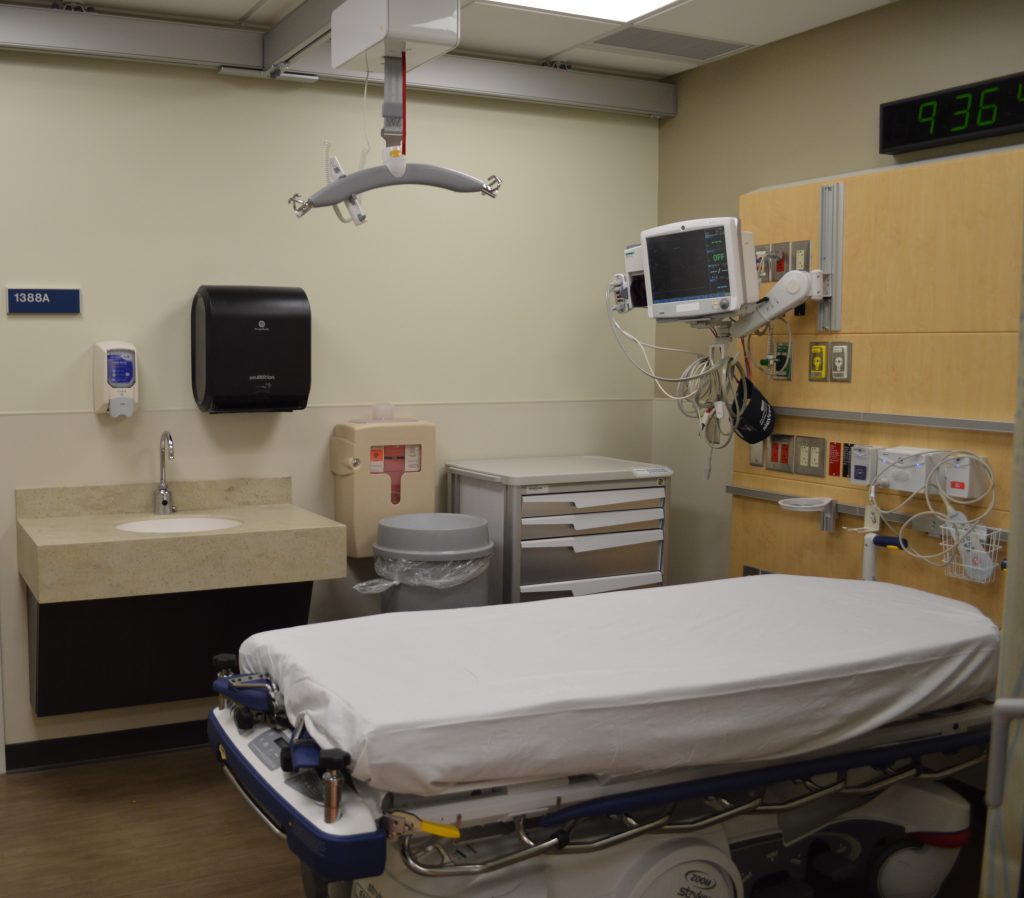 VA Medical Center: Expand Urgent Care
Expand Urgent Care is an approximately 7,326 square foot addition to Building 111 at the Milwaukee VA Medical Center.  The project expands the Emergency Department from 11 beds to 20, including two rooms specially designed for mental health patients.  The expansion was designed to optimize care and greatly reduce waiting times for patients.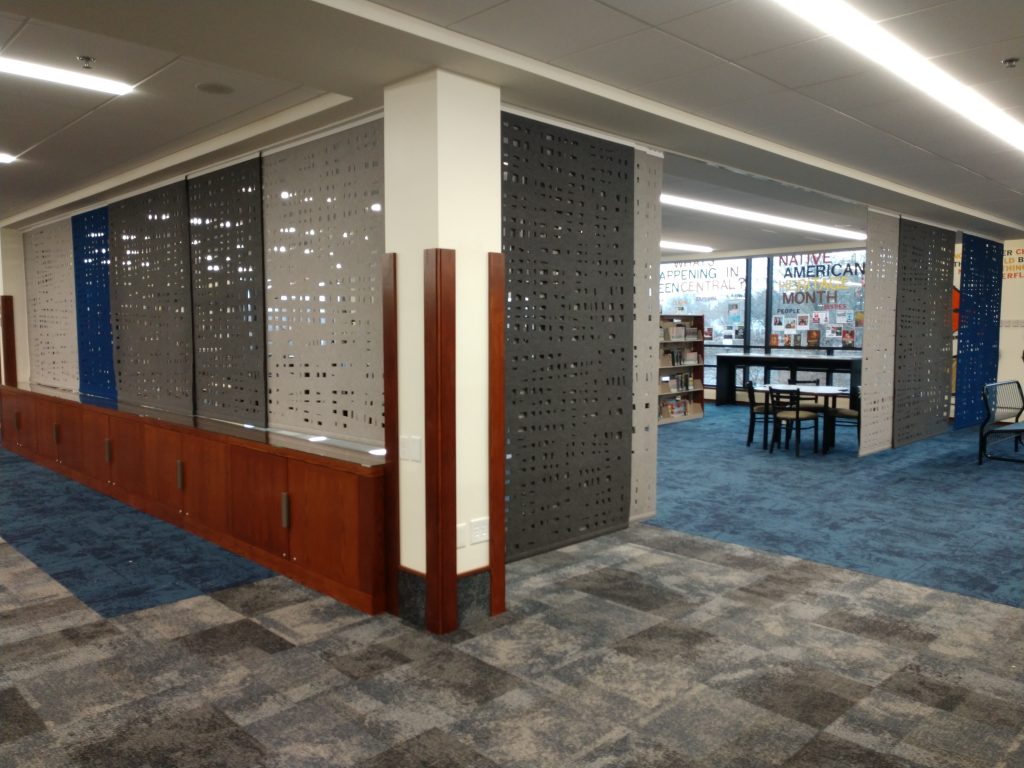 Hedberg Public Library Transformation
Hedberg Public Library Transformation is an approximately 33,500 square foot remodel of an existing two-story, 67,000 SF building in the City of Janesville.
This project required an immense amount of coordination considering it was an occupied space. PCS's operating hours on this project were 5 AM—12 PM to accommodate operating hours of the Library. There were challenges with the design which prompted many Requests for Information and additional coordination with the project team.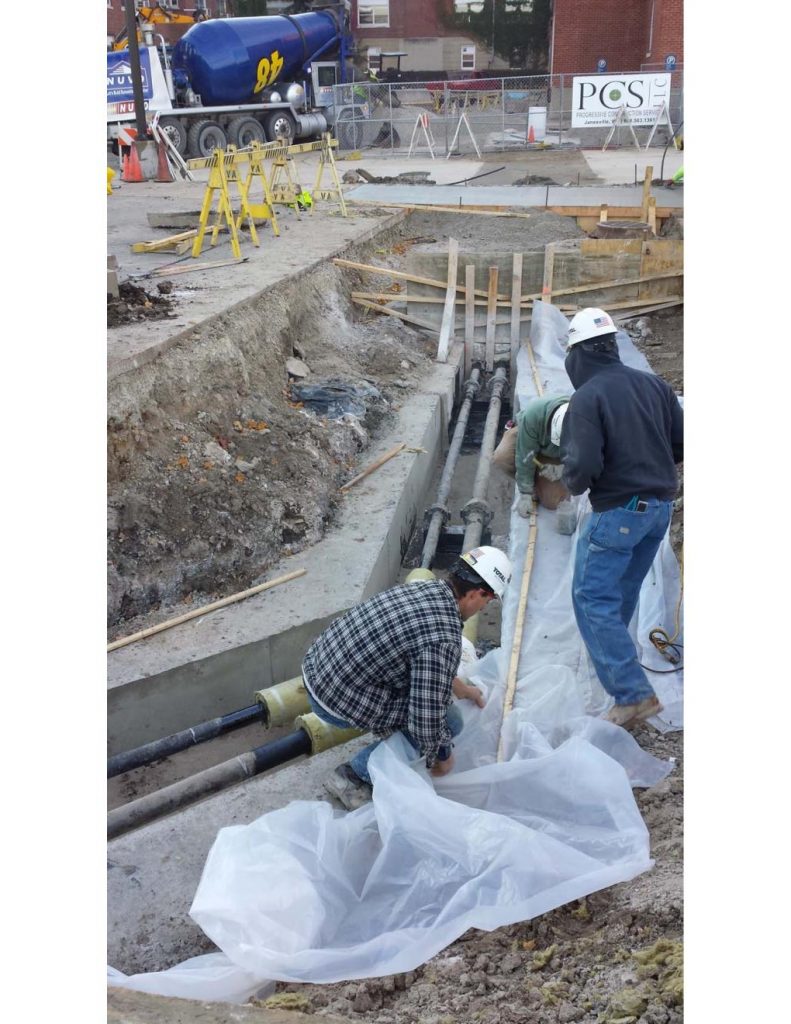 VA Medical Center: Upgrade and Replace Bldg 123 Steam Line Piping and Insulation
Steam lines service the entire VA Medical Center campus. Building 123 steam lines required replacement and new insulation. This project was fast tracked and required heavy coordination between the owner and the entire project team.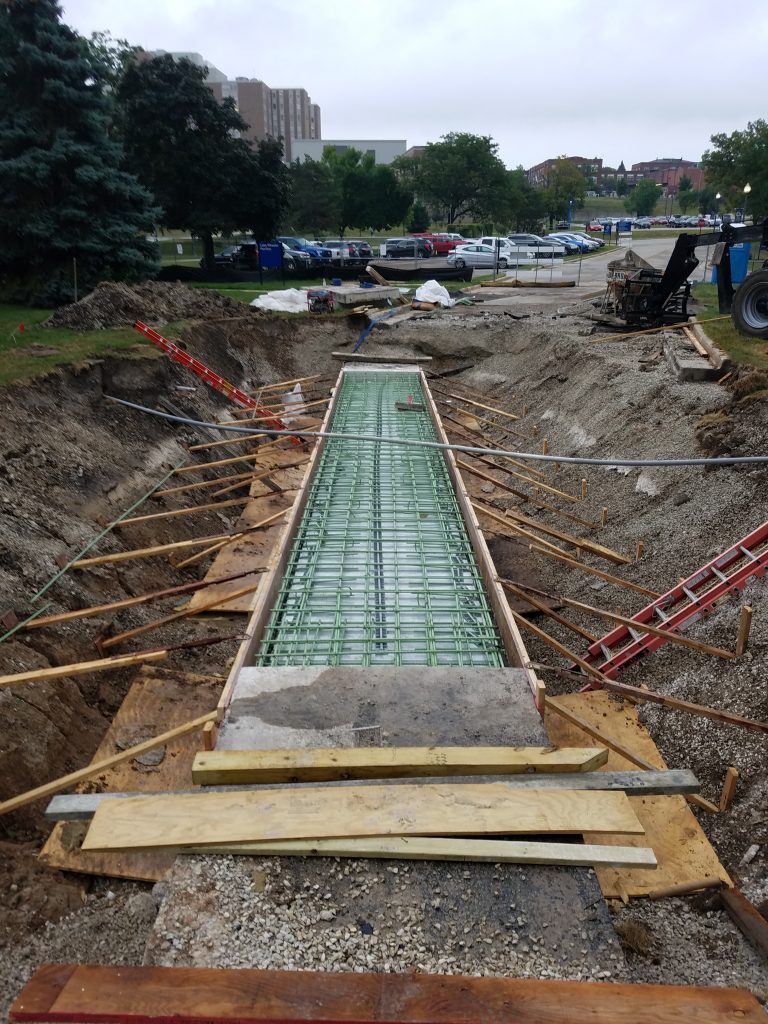 VA Medical Center: Repair Campus Steam Tunnel and Structural Supports
Steam tunnels service the entire VA Medical Center campus.  This project required the repair or replacement of structural supports of the steam lines in the tunnel.  The project was a complicated job that required extra safety measures due to confined space.  The steam tunnel was operational during the entire project and temperatures in the tunnel rose above 100 degrees.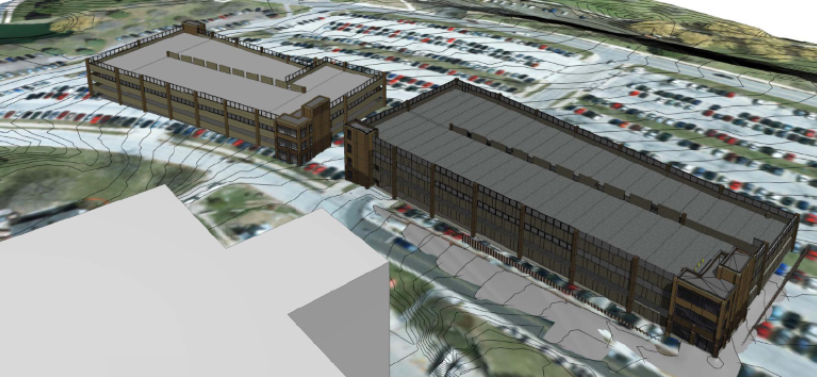 VA Medical Center: Parking Lot Structure 7
This project consisted of constructing a new three-tier elevated precast parking garage with 340 parking spaces and was built on 65-foot auger cast piles.  The sitework, deep concrete foundations, coordination and safety of campus traffic, staff patients, and visitors will be similar in nature to the new Radiation Oncology Suite.  The location and proximity of this Parking Structure is next to the location of the Radiation Oncology addition to Building 111.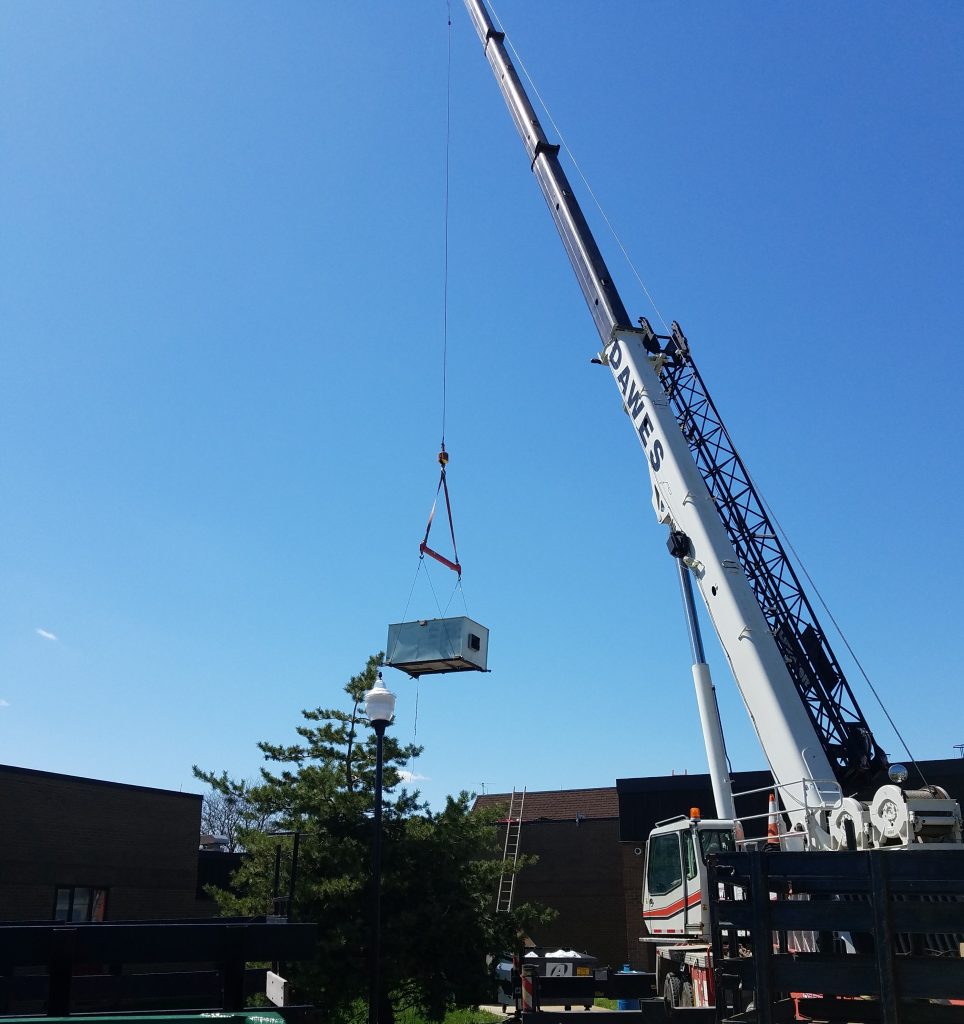 VA Medical Center: Replace Bldg 123 Kitchen Air Handling Unit
The VA Medical Center Building 123 serves as housing for Veterans.  The service kitchen required a replacement rooftop air handling unit.  The project also required new direct digital controls and a new ACCU to provide chilled water cooling. Extra coordinatoin was also important as Building 123 was occupried and operational at the time of construction.
OTHER NOTABLE PROJECTS:
Department of Veteran Affairs – Milwaukee, WI
144 Spinal Cord Injury Unit Card Readers and Security
144 TUG – Robots > Linear Accelerator Beam Replacement
Oncology / Pharmacy Hoods Remodel
144 Spinal Cord Injury Elevator Controls/Readers
70 Relocate Facilities Management
Starbucks and Barber Shop
Site Resurface Parking Lots & Talk-A-Phones 4-15
Bldg 41 Repair Roof Truss (Historical Preservation)
Site Upgrade Steam Lines > 111 Renovate 10CN
SE Area Parking Lot – 280 cars
Parking Structure Lot 4 – 4 Stories, 360 Cars
Parking Structure Lot 7 – 3 Stories, 300 Cars
Bldg 43 Renovate Substance Abuse & Mental Health
Bldg 111 Expand Urgent Care Addition
Replace High Pressure Steam Lines Bldg 70 to Bldg 123
Replace Air Handling Unit Adult Daycare
Install EMS in Sterile & Clean Supply Rooms Bldg 102
Repair Campus Steam Tunnel & Structural Supports
FY18 TJC & Safety Corrections
Rooftop Guardrail Repairs
Pavement Striping
Bldg 123 Replace Kitchen AHU
Upgrade Elevators Buildings 5 & 6A
Upgrade Fuel Tank Storage Buildings 43 & 107
Department of Veteran Affairs – Madison, WI
Construct MRI Suite Addition, Madison VA
Hedberg Public Library Transformation – Janesville, WI
37,000 SF remodel of existing 67,000 SF public library
Roundy's Pick n Save – DeForest and McFarland, WI
Overall store remodels including new departments
Westin Hotel – Milwaukee, WI
Owner Representative for the new 9-story, 200-room hotel connected to US Bank building in downtown Milwaukee
Concept to Warranty including managing A/E, Contractor, and multiple consultants throughout the design/construction process
Roundy's Metro Market – Shorewood, WI
New 80,000 SF 2-Story Grocery Store with a 4-Story, 400-Car Parking Structure
Rosewood Apartments – Berwick, PA
Complete remodel of 10-buildings, 86-units including structural modifications – affordable housing for seniors
Owners Representative – hire/manage design team and general contractor from pre-construction through warranty
Port Byron Heights – Port Byron, IL
Complete remodel 10-buildings, 72-units including structural modifications – affordable housing
Owners Representative – hire/manage design team and general contractor from pre-con through warranty
Elven Sted Development – Stoughton, WI
New 3-building, 32-unit affordable housing for the handicap on a 3-ACRE site along Yahara River
Owners Representative – hire/manage design team to construction
Northwest Community Hospital Center for Specialty Medicine – Arlington Heights, IL
New 9-story, 60,000 SF hospital and 140,000 SF medical office building including 21 tenant suites and a 925-car parking deck
DSF Gates Hall Skilled Nursing – Union Grove, WI
Dept of Veteran Affairs-Wisconsin Veterans Home
Gastroenterology Consultants– Moline, IL
New 17,500 SF Surgery Center
UW Medical Foundation Transformations – Middleton, WI
Cosmetic surgery center and clinic with 2 Operating Rooms, Ophthalmology Clinic, 16-exam rooms, an optical lab, procedure rooms, and administrative space